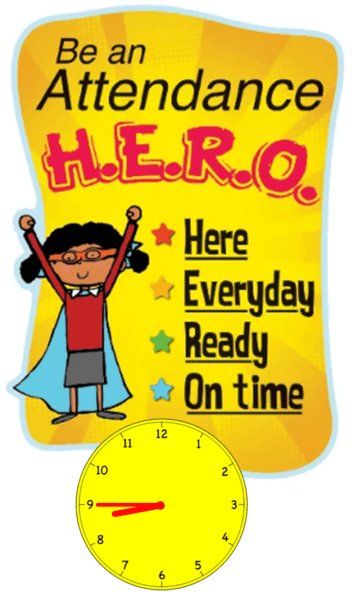 Good attendance is essential for children to make progress.  Attendance supports attainment and enables your child to be confident in their learning and secure in their friendship groups.  It is not fair if you do not support your child to have good attendance. Our pupils tell us that they do not like it if they have missed learning in class and feel embarrassed if they arrive late to school.
We expect all our families to ensure their children attend school regularly and arrive on time.
We always follow up poor attendance and punctuality and we do not authorise holidays in term time unless there are exceptional circumstances.
The School Day
The school day starts at 8:45 am and it is important that your child arrives on time, ready to start school. If you are struggling to get your child to school, please contact us on 01952 387927 so we can help.
If parents or other adults collecting children at 3:15pm are delayed, please call the school.
The Academy is open for a total of 32.5 hours in a typical school week.

How you can help your child achieve good attendance
Establish a good routine in the mornings and evenings so that your child is prepared.
Ensure that your child arrives on time and is not late.
Arrange dental and medical appointments outside of the school day.
You must ring school before 9.00 am if your child is absent due to illness on every day that your child is absent from school.
Take family holidays outside of term time.
Talk to your child about school and take an interest in their school work and homework.
Praise and reward your child's achievements at school, including good attendance.
Attend parents evening and school events.
Holidays During Term Time
They could cost more than you think! The Department for Education has renewed appeals to parents not to take their children out of school during term time. The Governors and Principal of Priorslee Academy support this and have decided that children will only be given permission to take leave in term time if there are exceptional circumstances.
Please check the Academy's Term Dates. 
Did you know:
The law says that parents do not have the right to take their child out of school for holidays during term time.
Parents cannot demand leave of absence for the purpose of  holidays as a right.
The Governors do not have to authorise leave in term time other than in exceptional circumstances.
Unauthorised leave in term time could result in each parent receiving a Penalty Notice costing up to £120 for each child, or each parent could be taken to court.
The sample letters below (click to open) are the official letters issued to schools following the 1st of September 2013 change in legislation.
To request a holiday during term time parents are required to complete a
Parents will receive a refusal or (only in exceptional circumstances) a permission letter
Following 5 days unauthorised absence for the purpose of a holiday during term time, the academy is required to issue a referral notice to the Attendance Support Team (AST) at Telford and Wrekin Council  AST Referral for penalty notice
Telford and Wrekin Council will then serve a Holiday Penalty Notice fine of £60 per parent per child rising to £120 if not paid to T&W Council within 21 days. Thereafter, failure to pay the £120 within the period 22 to 28 days may result in Court action.
There is more information on Telford and Wrekin's Website